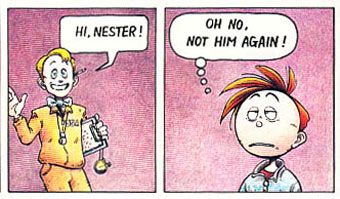 It actually took me the better part of six months to track down Nester, the mascot for Nintendo Power magazine between 1989 and 1993. The first attempt to contact him, via his agent, ended in disaster when it turned out that the address given me was actually a slaughterhouse in Arizona. After hiring a private detective (at Chris' personal expense no less... whatta guy), we finally tracked down the man that for four years stood as the gateway between the obfuscated world of Nintendo's products and the common man.
Facing Nester is an exercise in suspension of expectation. He is a broad, bespectacled man in his early 30s, the only remnant of his child-star presence being the roundish head that made him famous. I catch up with him at an undisclosed location in Tacoma, Washington.
SECKSCAB: It's been twenty years since you premiered in Nintendo Power, as a sidekick to Howard Philips in the "Howard and Nester" comic. Do you still keep in contact with Howard?
NESTER: Sadly no. I haven't seen him since he left Nintendo in 1991. I heard he was working for Lucasarts.
SECKSCAB: Apparently. Wikipedia agrees.
NESTER: I never got to say goodbye. One day he was polishing the gigantic brass Shigeru Miyamoto statue, and the next day he was gone. His desk was completely atomized, after blinking three times.
SECKSCAB: That's... odd.
NESTER: It was like he never existed. Or if he had, it was like he was killed with the Silver Arrows.
SECKSCAB: Were there any other strange occurrences at Nintendo that you can recall?
NESTER: I don't really want to talk about what they did to Donkey Kong.
Awkward silence.
SECKSCAB: So, you left Nintendo in 1993. What have you been doing since then?
NESTER: Just trying to keep afloat, I guess. We try to keep things turning here in Nester Headquarters. I did return on a consultancy basis in 1996 for Nester's Funky Bowling on the Virtual Boy.
SECKSCAB: I'm sorry, I was not aware...
NESTER: Not many are, sadly. Michael Jackson was the only one who pre-ordered it.
SECKSCAB: Really? Did he send you a note or anything?
NESTER: I think he was dismayed at the "Virtual Boy" not exactly turning out to be what his imagination assumed it to be.
Nester sips the cup of coffee that I purchased him, and looks somewhat saddened.
SECKSCAB: What was the high point of your stardom?
NESTER: Referring to my genitals as "The Rumble Pak".
SECKSCAB: Nice.
NESTER: Feel free to use that. Hasn't worked for me in fifteen years.
SECKSCAB: Do you still play video games?
NESTER: I do, yes. I have a Death Knight on Ethelon named "AwesomeKillz", if anyone wants to hit me up. We have a Tabard now. Now accepting all classes and levels, seeking serious players with no drama.
SECKSCAB: So you like World of Warcraft?
NESTER: Keeps me busy, ever since my wife left me. It's just me and the WoW and the Social Security Administration these days.
SECKSCAB: I'm sorry, I was not aware you were married.
NESTER: Twice. I have a son now, Lester.
SECKSCAB: How old is he?
NESTER: He's four years old, (Amy Schultz; localization editor for HAL) is keeping him hostage for the time being. Apparently I'm a "deadbeat dad". So the judge says.
SECKSCAB: That's... er... what was your favorite game you ever reviewed?
NESTER: What the hell does it matter, man? It's all blown to Hell. It's all over. Nester the man is a broken shell and a failure. A heartbroken supertanker full of misery and regret. My spirit has been crushed, every day is a roaring success if I can find the gin.
SECKSCAB: I had no idea.
NESTER: I'm kind of bleak these days.
SECKSCAB: Obviously.
NESTER: No need to be snarky, man. I know the score. I know the motherfucking score. There's something fishy going on in Maniac Mansion. Grab the remote control on the third floor to summon Robo-Duck. It's a bad night for a curse. Dodongo dislikes smoke.
Nester is nodding back and forth oddly, as if his whole equilibrium is off.
SECKSCAB: So then, do you have any projects for the future? Anything that the fans of Nester would like to hear about?
NESTER: I am going to lay a gigantic dook in about an hour. Inform the press. I will accept the laudatory praise of the universe with all due humility.
With his fifteen minutes up, Nester returns to the Suncoast Video where I found him lurking.